Discussion Starter
·
#1
·
So, after purchasing our NTU 2007 Outback 23rs
I noticed that the tilt out drawer on top of a nice kitchen cabinet seemed a little useless.
It has all this room behind it. It should have been a real drawer. Mod time..
New drawer done. Removed face from tilt out and attached. Then I will just add a barrel catch and voila!
Of course there is that that moment which leads to notice how much room there was behind all my drawers. Back to the shop...
I ended up removing the paneling that held up the backside of rails for the drawers and added wood strips glued and screw to back of cabinet.
Also: note drawer faces are nailed on! I carefully pried the off and attached to new drawers. Alignment was easy do to barrel catches and industrial two sided tape.
Old drawers 16", new kitchen cabinet drawers are 22" and of course why stop there.
Dinette went to 24" (from 16") and the pantry went to 24" (from 16").
Add about 1/3 more drawer storage over all to kitchen.
PS. Wife want me to mention drawer mod to keep them closed while traveling - Child safety lock (
http://int.safety1st.com/our-products/home-safety/safety-items/us-complete-magnetic-locking-system.aspx
) that can be
disable
when you get to where your going.
Good sent. No more finding drawers or door open and your stuff spewed after long road trips. Except the drawers in the pantry! Fixed that. I will add more pics of those later in a pantry post.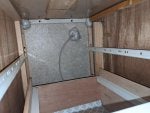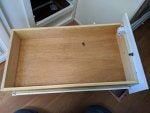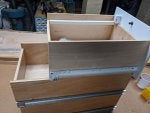 Thank you for the other mods posts with pics. It is great to get ideas from your Mods. some others I've done because of them.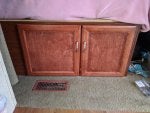 Note to self don't use at tape on paper laminated plywood. That's the white areas you see after removing it (doors open). Took Faux-wood off while peeling it.