Discussion Starter
·
#1
·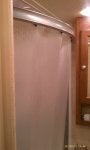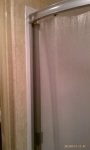 The 2 pics above are from a shower curtain setup I saw in a new Forest River product at the RV show here in January. I done a bit of research to see how to obtain this, and below is what I came up with and already posted on D&T earlier. I'm trying to get a feel for how many are interested in case the company throws us a bone. It's late, so I'm just gonna copy and paste my other post, so read it accordingly. I think this would definitely be a great solution, if it can be priced to compete with the pleated shower doors. It is curved to give the added room and has a magnetic seal where it meets the track on the side when closed, If I recall correctly, there's also a bottom track attached at the tub. It would be a great solution if the company can come up with a way to sell to us as a group or individually. It would also help if they could visit these forums and see that there's an interest, so a little commentary on the thread would help as well.
My post from D&T:
Okay guys, just looked up the manufacturer of the system I posted pics of Shower Enclosures of America
http://www.seamerica.com/
. I found them by going here
http://www.praxisgroupllc.com/ShowerDoors.html
. They say they are looking into making it available to the public, but right now they just supply the manufacturers. I gave him this forum name, and OBers to keep us updated. I told him that this is what everyone is looking for, and that I was going to post their information, so that everyone with interest can drop them a call or an email, in hopes of speeding up the process. I encourage all to join in on this campaign and maybe post this info on other forums, and maybe they will do something for us. I truly believe this is the solution we've all been waiting on.
The number I dialed was 1-800-536-7324 ext. 3110. I spoke with a guy named Traico. I think calls and emails might work great. I just left a voicemail to see if we could do some sort of a bulk order, and either send them a bundle of preaddressed shipping labels, or take the responsibility of distribution up ourselves.